When you open a PDF file from Clio (or Google Drive), the file likes to open in your web browser as a preview.  Here is how to force Chrome to open that PDF in Adobe Acrobat (or any default PDF application).
Open Chrome and in the address bar, type:   chrome://plugins/
(Hit Enter)
Disable "Chrome PDF Viewer" and "Adobe Reader"  (click "Disable" – disabled items appear to have a grey background)



Open your PDF file from the Clio > Matters > Documents path.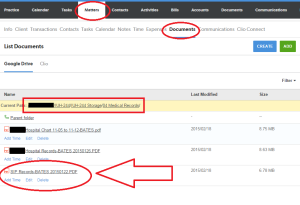 The PDF will open a preview in Google Drive.  Click the "Download" arrow icon in the top right and then click the downloaded file in the bottom left corner to Open the file in Adobe.


From here you can make your changes, save to your "scratch" Clio folder / desktop, and then "Drag-n-Drop" upload back to Clio (or Google Drive)
Google Drive: Associating Documents with Matters
Uploading Client Documents to Google Drive / Clio